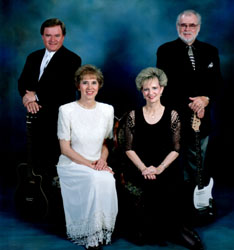 Don & Bev Hoxworth, Juanita Purser, Jonathan Ray Smith.
If Pastor Don and Bev Hoxworth had their way, every lost soul and hurting person would come to know Jesus Christ as their personal Saviour.
THE HOXWORTHS officially formed their singing ministry in 1981, but even then they were not newcomers to gospel music. Don grew up in a musical family. His family was a traveling musical and preaching family and as a child and teenager he sang and played guitar for his family. After Don and Bev were married, he left his family ministry and joined her family group, The Singing Nixons. Beverly has been singing since she was two years old. In addition to singing in church, she also performed in school productions and is an accomplished pianist. Bev traveled and sang with her family group for nearly seventeen years before she and Don were married. Bev has been a professional singer and minister of music for several churches. She is a motivational speaker and has been a vocal coach and has conducted numerous career development seminars.